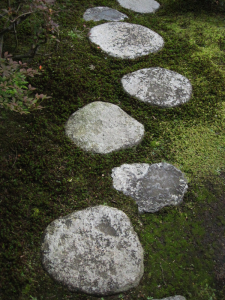 The Tea garden, or Roji is divided into two spaces: an outer garden and an inner garden connected by a series of stone paths. Gates and fences play an important role in dividing the two rooms to create the feeling of transition from one place to another.
When designing the landscape for a Tea garden I start by looking at the architecture of the place, the bones and details, because I want to gracefully transition from outer to inner, from the street to the tea house; a transition from daily life to a space that is contemplative and feels connected to place.
It is not necessary to have a tea house or retreat space in your back yard, but the garden should feel like you've stepped onto a path that leads you through the countryside to a rustic hut or space designed for quiet contemplation and reflection.
The overall impression should be one of integrity, tranquility and beauty. There are a few elements that make this work.
-excerpt from A Tea Garden in Tivoli