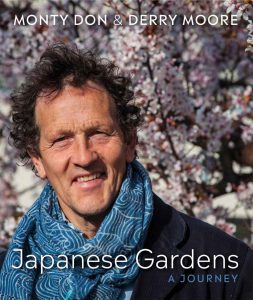 Monty Don has a new book that's a companion to his popular BBC show. It's called Japanese Gardens: A Journey.
Monty Don and photographer Derry Moore traveled to Japan in spring and autumn, and captured the history and beauty of Japanese gardens in these spectacular seasons.
But remember, you can create a Japanese-inspired garden anywhere even in your own backyard at home.
The goal is the same whether it's in a formal Japanese garden in Kyoto or in a garden of your own design: to create of oasis of beauty and peace
Here's an idea…
Get Monty's book to see how it's done in Japan and, if you don't already have it, get A Tea Garden in Tivoli, American Garden Design Inspired by the Japanese Way of Tea to see how you can do it too. Both books are available on Amazon. 
Here's a very special offer…
If you buy both these books on Amazon at the same time, email me the receipt and I will send you a second free copy of a A Tea Garden in Tivoli to give to a friend (a $34.95 value, yours free.) This is a limited time offer and unfortunately due to shipping costs this offer is good only for people with a US shipping address.
Monty Don's "Japanese Gardens: A Journey"
Bettina Mueller's "A Tea Garden in Tivoli. American Garden Design Inspired by the Japanese Way of Tea"