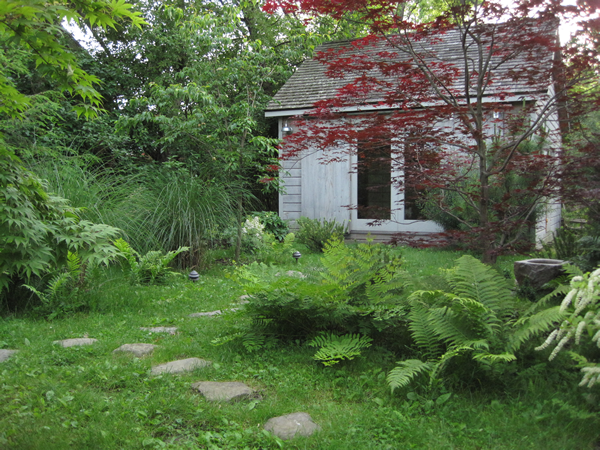 I first learned to garden when I lived at Green Gulch Zen Center in California. Green Gulch is a working organic farm that grows vegetables and flowers for market. I learned about Biodynamic farming, watched gardeners plant seeds in rows of dark rich earth, walked by steaming hot compost piles and weeded in the flower gardens.
Zen is known for its close relationship with the arts, in particular gardening, poetry, calligraphy and the tea ceremony. As part of my Zen practice I have been studying the Way of Tea for many years. This study includes flower arranging, garden design, architecture, literature, the connoisseurship of the fine and applied arts and cuisine. Kaiseki cuisine is a seven course meal served during a tea gathering and in 1997 I wrote a book about it called The World in a Bowl of Tea.
When I moved to my home in Tivoli, New York I continued my Tea and Zen practice and built a small tea house in my back yard. One important element in any Tea gathering is the garden and the path to the tea house, called a Roji. To learn more about this I went to Japan to study Japanese garden design at Kyoto University of Art and Design.
It was my first trip to Japan and I felt completely at home. At last I could walk through the gardens I had heard so much about. I wandered through ancient temples and drank in the atmosphere of the timeless spaces.
This is the story of how I built a Tea house in my backyard and how I created the gardens that surround it. I incorporate many of the ideas of the wild garden, the English cottage garden, the prairie garden all the while working within the rustic, elegant style of the Tea Ceremony.
excerpt – A Tea Garden in Tivoli