Hedges and fences form the bones of a garden and create rooms with distinct styles. What starts out as a blank slate now has a frame that can be filled. One of the first things I did in my garden was to plant thirty feet of privet along my property line to enclose the flower garden and give me a sense of a "secret garden", a walled place set apart from my neighbors.
The most magnificent privet I"ve ever seen are grown in the Hampton"s of New York and used everywhere. Here"s a typical, perfectly manicured hedge that screens a house.
"How do they get that tall and so beautifully sculpted?"
That"s been my question ever since I planted my little, two foot high shrubs ten years ago. Well, it turns out that here in the Hudson Valley it"s not so easy. There"s not enough sun, or there"s not enough "something" to make the Privet take off like they do in Long Island.
Pruning is difficult. Most people will get their electric pruners out and just top the growth, which creates more density, but in our case that would mean keeping the privet to about three feet tall; we wanted them much higher! Over the years I"ve hand pruned the hedge making sure that the top is thinner than the bottom like the diagram on the right. It needs to have the shape of a modified pyramid.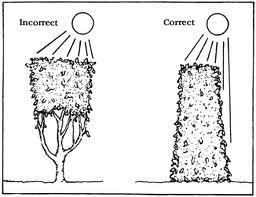 I"ve also hand clipped long straggly stems in the middle of the hedge that don"t have growth on the center and only leaf out on top where there"s enough light. It"s tricky. The more you prune, the bushier the growth as you can see from the diagram on the far left , but you loose that undergrowth that makes such a perfect hedge.
But finally after ten years, my Privet has taken off and responded to my selective pruning. Now my problem is how to get to the top branches. I get on a ladder and have a long hand clipper, but it"s an arduous task and I can"t reach the top. I"m not complaining though! I"m thrilled they"re so high.
So now I have to figure out how to get to the top. I asked my neighbor who has a lawn business to help out, but we"re not in the Hamptons. She has two guys on a ladder, who "might" be able to reach. Take a look at what the pros do…Yikes!