I heard that gardeners spend 30 billion dollars a year on gardening stuff. That dollar amount is so huge I had to double check it on Google. It's accurate.
What are we all spending money on? For me it's perennial and annuals every spring. I'm making a woodland garden and searching for wonderful Lady Slippers, Maidenhair Ferns and Japanese Peonies. But what are other people spending their money on?
Yesterday I went to the annual Trade Secrets fundraising event nearby in Connecticut which features sales of rare plants and garden antiques. It was crowded with people who had turned out on a beautiful Saturday to buy… garden stuff!
Here's what caught my eye:
First I made a bee line for Hillside Nursery which sells rare and delicate woodland plants. They have an amazing selection (more later).
Then I went to my favorite vendor Campo de Fiore. I can't believe what they do with pots and plants in them. I had to restrain myself from getting a potted Begonia – I'm not having luck with potted plants, so I just admired what they had.
As you can see, I spent a long time here, but restrained myself. This fish terracotta adornment for the garden was about $1000.00. Yikes.
Then I strolled around.
I saw some antique garden furniture, but mostly I was looking for woodland perennial treasures. My garden is fairly restrained. Gnomes, fish, topiary and big stuff just don't suit my garden or me – but I'm happy to fantasize.
But there was more and even more. I started to get overwhelmed.
And more piles of pots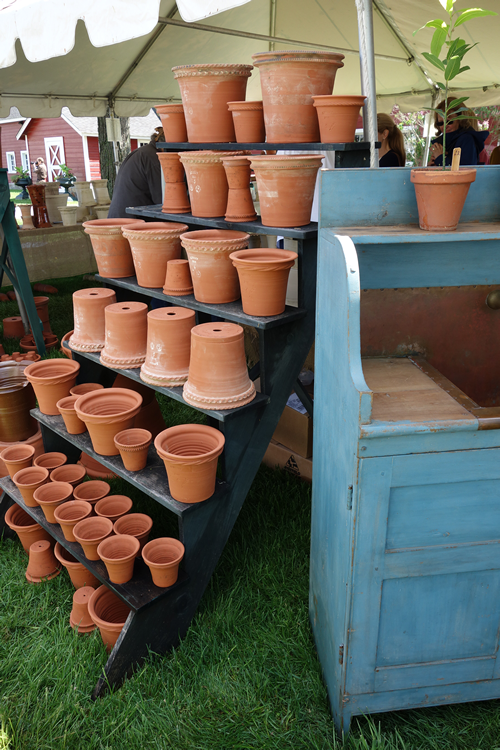 and piles of other gardening things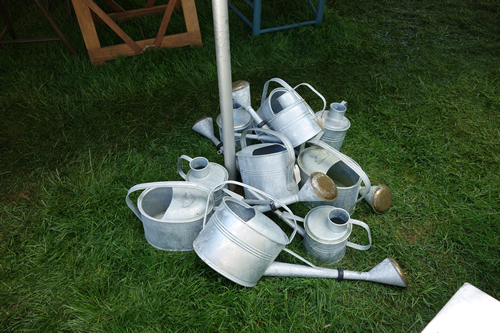 Finally I got away and on my way home made it to oneof my favorite places for trees, shrubs and super perenials – Old Farm Nurseries
Geesh – look what they've got here!
So maybe this is some of what we are all buying that comes to 30 billion a year. A bit over the top for me. Yet I did come home with some delicate sweet wooland plants that I hope will flourish and prosper. Stay tuned.