I went over to Olana the other day looking for trees that had big leaves. I needed a leaf to use as a lid on a glass water container for tea. Here you can see the leaves I collected. The vase is the squiggly shaped glass object – designed by Alvaro Alto.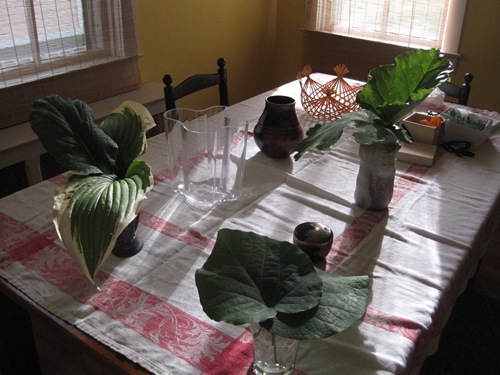 Olana, which is five minutes from my house, is the Persian style home of Hudson River artist Frederic Church. After an 18-month trip to Europe and the Middle East, Church hired architect Calvert Vaux and worked with him on the design of the mansion, which was constructed between 1870 and 1872. It sits on top of a hill with sweeping views of the Hudson River and the Catskills.
I had just returned from a month in Italy. The only garden I saw on the trip was the Boboli garden in Florence which is a huge, formal and cold place to my eyes. There were a lot of tall hedges and massive areas that implied wealth and prestige. It wasn't interesting to me at all.
But now I was back home and at Olana. I decided to wander over to the flower garden which I hadn't seen in a couple of years. It's a tiny garden by a wall out of sight of the house. There are no grand gestures or sweeping views of the mountains. It's a small and intimate place with a path that seems to meander with no haste. Truly a great garden with no artifice. Enjoy!